1. The Old Hat
The distance between this rider's legs doesn't change when they dismount, and they have more miles under their girth than a migratory bird.  Their horse never seems to break from its perfect 10mph trot and never seems to be all too taxed.  The fountain of youth may be dry, but the fountain of knowledge is overflowing.  They can still outride their younger counterparts and never seem to complain.
2. The Child Prodigy
They may not yet be tall enough to ride a rollercoaster, but that won't stop them from riding 50 miles on the back of their plucky pony.  Chances are, they still have more riding experience than the riders triple their age. They campaign the social media forums looking for a sponsor – nab them up ASAP and enjoy sing alongs down the trail.
3.  The Student
This person may be short on practical experience, but they have read every article, every rule, and been to every clinic offered for the past 5 years.  They have a notebook filled with training notes and guides that they may even carry in their saddle bags.  They have been dreaming of this for years and finally have the means to bring a horse out to a real ride.  While they may look a little tired and physically overwhelmed, they know exactly how their scorecard works, what their cutoff or optimum time is, and will happily share their booksmarts with newbies and old hats alike.
4. The Socialite
This rider knows every other rider, volunteer and official on site and makes a point to visit everyone before the weekend is over.  They stay out late at the campfire with a thermos full of wine and a bag of snacks to share. They also the one organizing the fun unofficial events and parties before the ride starts and during the off season.  Watch out newbie, The Socialite will notice you the moment you arrive at ride camp!
5.  The Dabbler
With their matching embroidered saddle pad, fly bonnet, polos and glittering Charles Owen helmet its clear this rider is out for their first taste of trail.  They may not have a crew kit or a suitable enclosure for their 17h warmblood, but they are keen and smiling and their perfect equitation will save them grief through the next 12 miles.
6. The Ride Mom/Dad
This rider always notices when someone is having a bad day and offers a welcome hug and sympathetic ear when things aren't going your way.  They also have the best food and makes sure that everyone within a 50m radius of their campsite has food and shelter, and has probably already topped up your horse's water for the night.
7.  The Celebrity
The rider with the Je Ne Sais Quoi.  They warm up and everyone stops to stare.  Not only are their dressage skills on point, they also always look composed and put together.  They probably smell fabulous and seem to never sweat or get beet pulp in their hair or clothes.  They never seem to talk to others, but watching them in a hold is like a live action mineral water commercial.
8.  The Livestreamer
You don't know how, but this rider manages a steady stream of social media updates from the back of their horse – mileage countdowns, selfies, between the ear shots, placings, vetting results, and deep realizations about themselves and the world around them… getting deeper the more miles whiz by.  You never actually see them on trail but you follow their updates religiously.  They also seem to know and post where any other rider is at any given time.  How they stay on top of it is a mystery to all.
9. Mr./Ms. I'm in the Zone
This rider has everything planned and timed to a tee.  The moment they see the timer they get a steely focus and everything flows like clockwork.  They have already managed to clear the vet check and are reviewing their scorecard before you have even remembered which pocket you stuck your vet card in.
10.  The Riding Couple
They are #relationshipgoals of every rider with an unhorsey spouse.  While they are technically two people, you will never see them separate on trail or at a check and they may even rider option their own ride when the other fails the vet check.  Four legs are better than two, and eight is just perfect for these riders.
11.  The Slightly Absent Minded
Arrive late? Check!  Forget a major piece of equipment?  Checkaroo!  Rides 6 miles of the trail backwards?  You better bet that's a big fat check too!  This rider seems to come completely unprepared but manages to get through the ride through pure dedication and effort.
12. The Observer
This rider never seems to actually ride, but is always present… whether crewing, volunteering, or just out for the party.  They have been in the sport longer than anyone else and is watching everyone come through camp armed with tips and advice for riders.  Thank goodness for this person to cut through your Rider Brain and smack you upside your ego when things are starting to get NQR.
13.  The Turtle
This rider paid good money for a full day of riding and will damn well get it.  Maybe they will get warnings from officials and be lapped by the front runners, but  they carry along their merry way and enjoy the ride.  They notice things the other's don't along the trail, stop to bring home fruits and mushrooms foraged from the forest floor, and spend a little extra time in their holds scritching their animals.
14.  The Dream Team
The rider or group of riders who show up with a full squad of support crew.  Everyone is dressed in team colours and everyone is assigned a specific task, the crew area looks like something out of Nascar.  Chances are, the horses all look alike and maybe the riders do too.  They line up before the race for a photo that can only be taken in full panorama mode.
15.  The Fashionista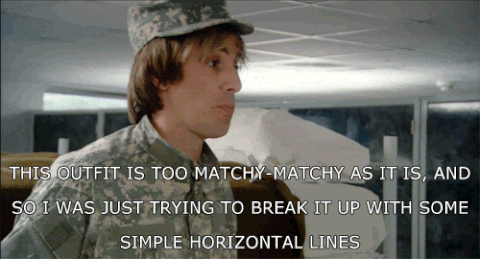 You better bet this rider has everything in matching colours – tack, clothing, buckets, saddle stand, trailer, grease pens.  Everyone knows this is HER colour and wouldn't dare replicating the look.  Like a superhero, shiny bright spandex plays a large role in her success… in fact, you are pretty sure you once saw her go into a portapottie and come out Wonder Woman.
 16. The DIYer
This person always seems to travel alone, probably cavalry style with everything they need for the race and the night attached to their bodies.  They live off next to nothing, yet somehow they have everything you could possibly need and most likely forgot stuffed into their saddle bags.  Crew? They don't need no stinkin' crew!  They've got this.